Can this fish be eaten raw?
This page contains the Japanese phrase: Can this fish be eaten raw?
Be very careful eating raw fish in the summer in Japan. I've been recommended by Japanese people to only eat at good (expensive) sushi restaurants during the summer season. Steer clear of the 100 yen kaiten sushi bars because it can be hit and miss. The old saying, you get what you pay for and when you're buying cheap sushi; the staff are being paid minimum wage; thus, the commitment level of food safety drops. Trust me on this one.

Furthermore, if you are going to eat cheap sushi from the kaiten bars, always order the sushi to be freshly made by the sushi chef, never eat off of the maru kaiten sushi conveyor belt.

Nevetheless, I've had the best sushi ever in Japan during the summer, but I paid quadruple the price for it.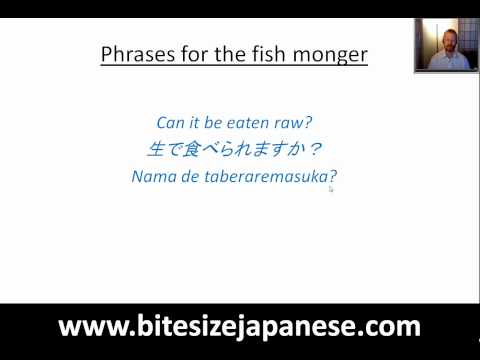 Dialogue
English
Can it be eaten raw?
Rōmaji
Nama de taberaremasuka?
Japanese
生で食べられますか?
Key Terms
raw
particle
can be eaten
Nama
de
taberaremasuka
生
で
食べられますか
---