Can you come to my house?
This page contains the Japanese phrase: Can you come to my home at around four o'clock tomorrow?
Koto is a noun or a nomilazer. It always follows the base form of the verb and together they act like a noun. Therefore, kurokoto 'come act' becomes a noun for come.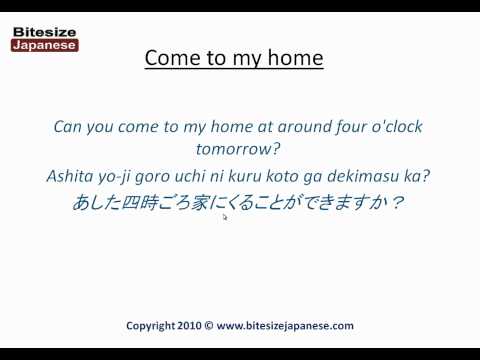 Dialogue
English
Can you come to my home at around four o'clock tomorrow?
Romaji
Ashita yo-ji goro uchi ni kuru koto ga dekimasu ka?
Japanese
あした四時ごろ家にくることができますか?
Key Terms
Tomorrow
4 o'clock
around
house
at
come
nominalizer meaning act
particle
can
question marker
Ashita
yo-ji
goro
uchi
ni
kuru
koto
ga
dekimasu
ka?
あした
四時
ごろ
家
に
くる
こと
が
できます
か