Please leave a message
This page contains the Japanese phrase: Please leave a message.
This phrase is mainly out of curiosity if anything else. I don't think you'll ever have to use this unless you really want to impress your friends. After learning these words, however, you'll hear them a lot if you make a lot of phone calls in Japan. Knowing what is said will help you learn the vocabulary when you hear it repeated all the time. Other useful telephone expressions are: I'll call you back, Call me back, and Answering the phone.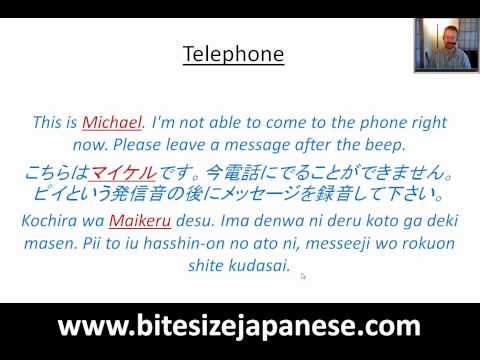 Dialogue
English
This is Michael. I'm not able to come to the phone right now. Please leave a message after the beep.
Rōmaji
Kochira wa Maikeru desu. Ima denwa ni deru koto ga deki masen. Pii to iu hasshin-on no ato
ni, messeeji o rokuon shite kudasai.
Japanese
こちらはマイケルです。今電話にでることができません。ピイという発信音の後にメッセージを録音して下さい。
Key Terms
this
subject marker
Michael
is
now
phone
at
going to the
can't
beep sound
particle
after at
message
particle
particle
recording
do
please
Kochira
wa
Maikeru
desu.
Ima
denwa
ni
deru koto ga
deki masen.
Pii to iu
hasshin-on
no
ato ni,
messeeji
o
rokuon
shite
kudasai
こちら
は
マイケル
です。
今
電話
に
でることが
できません。
ピイという
発信音
の
後に
メッセージ
を
録音
して
下さい
Filed under: